Are you looking for ideas for window treatments for sliding glass doors?
One of the questions I get ask most frequently is, "What type of window covering can I use on my sliding doors?" If you're looking for an alternative to vertical blinds, here are some ideas you may love!
These are "Sliding panels". They look great, but they are a little "pricey" and they may not be the most practical solution for many homes (especially if you have kids or pets!)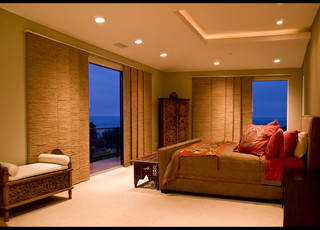 This is something that works great for the right home: curtains on a rod. You can even use drapery panels.
Here's another creative way to use
curtains
over a patio door.
What other window treatment ideas do you have for sliding glass doors? Need more ideas for window treatments over large windows, patio doors or sliders? Give me a call at 419-381-2700 or visit our website:
Bellagio Window Fashions
Window Treatments Toledo Ohio - Bellagio Window Fashions